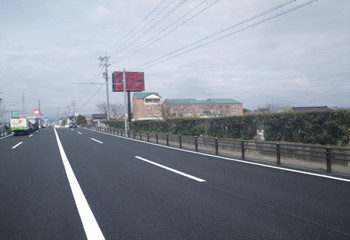 Guard pipe
Guard pipes are guard fences composed of beam pipes and supports with proper rigidity and toughness to resist the impact of vehicle collisions through the tension of the beams and deformation of the supports. Conventional standard three-beam type and aesthetic type are available.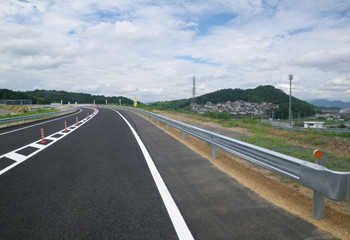 Guard rail
Guardrails are guard fences composed of corrugated beams. They have proper rigidity and toughness to resist the impact of vehicle collisions through the tension of the beams and deformation of the supports. Conventional double-corrugated beam type and high-strength three-corrugated beam type are available.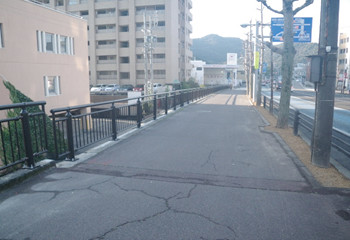 Fall prevention fence
Various designs are available to match the surrounding environment. Installed along boundaries between roadways and sidewalks to prevent pedestrians and bicycle riders from crossing roads.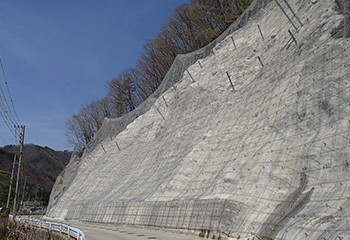 Curtain net
Absorb the falling rock energy in the net unit composed of a wire rope and wire mesh. They can afford to catch falling rocks repeatedly because it is designed with the allowable stress within the limit of elasticity. They can be installed onto the surface of gully and bumpy natural slope as the prevention mean at where no space between road and walls. The top part of the net is opened to deal with the falling rocks caused upside of the hill.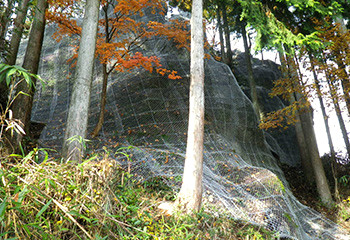 Rope net
Wire ropes are braided in a lattice pattern to prevent the initial stage of falling rocks and hold down with the current position. It is adaptable to any condition of the slope such as rock and sand. For installation, there won't be no worry to cut down a lot of trees.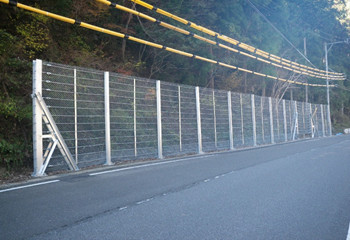 Mount rock fence
Compared to the conventional method of construction for the preventing net for falling rock, the Mount rock fence method does not require to shave the rock mountain, so it keeps natural environment around the construction site and also shorten the term of the construction.It is done with the modified unsaturated polyester plastic coating in addition to the conventional zinc plating. Therefore, it has a resistance to the acid rain and salt damage. You can have various color choices for that.
Geo Rock wall/Dyke type
Geo Rock Wall / Dike Type is a structure to protect against rock falls and sudden soil collapse by means of a soil retaining wall that has been reinforced using special synthetics. Designed to have minimal impact on the natural environment and landscape. Reduces construction cost to 50-65% of conventional countermeasures.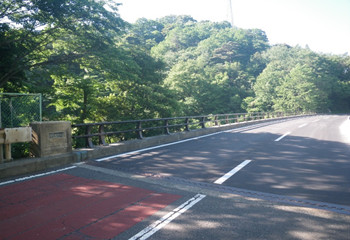 Aluminum railing
Aluminum alloy guard fences are high corrosion resistance and weather resistance in order to be used in harsh environment safely. High-quality zinc plating is covered by highly adhesive coating.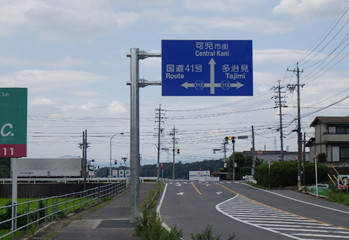 Signpost
Display direction, distance, and the route name to the destination.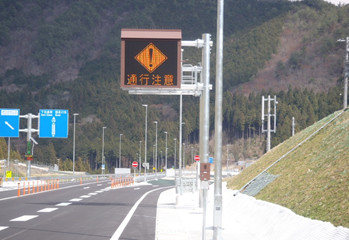 Electronic display board
This is an electric indicator alerting for 24 hours in day and night. Provides information on construction, traffic jams and other road conditions needed for more comfortable driving.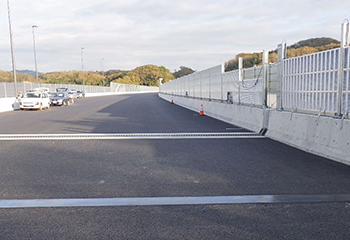 Seamless joint
It is a high durability buried joint combining 'Falcon SJ', a high impermeable and elastic paving materials for asphalt-type buried joint and 'joint frame' integrating with Falcon SJ. It is available for both of vertical and horizontal joint. It is effective for improving running safety and making less-noise and vibration because any part of the joint won't be expose to outside.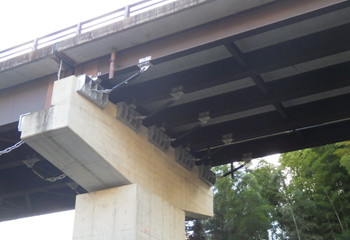 Bridge collapse prevention system for bridges
Prevent the bridge collapse when an earthquake occurs by attach bridge collapse prevention system to the existing steel bridge.