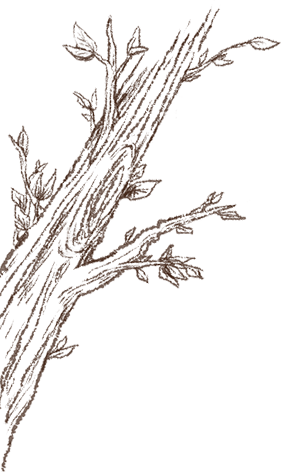 Ultra-lightweight!
Industrial lightweight photovoltaic system
"Luz-solar NEO"
Can be installed on slate roofs and folded roofs thanks to its very low weight.
The weight of the solar panel is less than half of conventional models, which correspond to less than 10 kg per square meter.
It can be installed on slate roofs and folded sheet roofs used in factories and warehouses where heavy items can not be loaded.
In addition, because no reinforcement work is required the total cost of installation can be reduced.
What is a folded roof?

The folded roof, which is a common type of roof, is a thin roof made of stone.
It is lightweight, easy to install, has low shrinkage and is inexpensive.
Many are used for factories and warehouses.

What is a slate roof?

This is mainly developed with an emphasis on structural resistance. It is often used in steel frame buildings such as factories, carports, and garages, and has become a typical roof construction method for metal roofs.
Unique patented installation method eliminates the need for a panel mount
Thanks to its lightweight the Luz-Solar NEO does not require any additional support system.
The solar panel can be installed directly on the roof without opening screw holes.
It is a safe construction method with no concern about water leakage.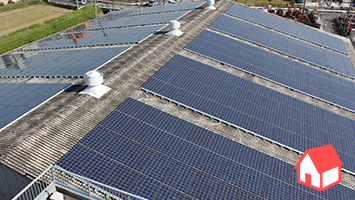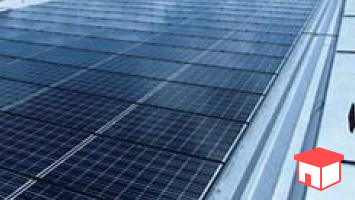 A "roof rental" business using roofs of factories and warehouses
Luz-solar Luz-solar NEO have advantages for "roof rental" business.
Advantages
Introduce solar power generation equipment to facilities without the cost burden
The double roof makes it possible to obtain a heat shielding effect and reduce the air conditioning use
Because the roof can avoid direct sunlight, it suffer less damage and last longer
Roof repair and rain leak measures at the time of installation are free of charge
CSR, CSV effectiveness
Roof rental income for 20 years
| | |
| --- | --- |
| Condition | One building roof size must be over 3000㎡ and available to rent for 20 years continuously, or enable to install over 300kW in total in several locations. |
Installation on a slate roof of a warehouse
e.g.30 years / 1300㎡ / 126kW